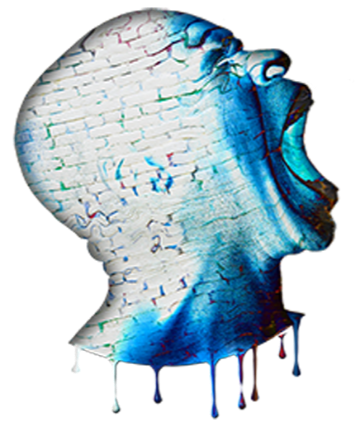 WALL OF ECHOES, A Tribute To The Music Of Pink Floyd

Wall of Echoes is Florida's longest running Pink Floyd tribute band performing throughout the state since 2005. Centered on energetic and memorable live performances, Wall of Echoes takes audiences on an incredible journey into the world of one of the most beloved rock bands of all time paying tribute with highly accurate sonic recreations and stunning visual imagery.

Wall of Echoes is comprised of passionate, highly skilled musicians all of whom share a love for the music of Pink Floyd and its faithful recreation. The band performs the biggest hits from every era of Pink Floyd's extensive catalog including; the formative years of the 1960s, the epic albums of the 1970s, and the spirited songs from the 80s and 90s.  Wall of Echoes is also known for performing entire albums as part of their show including; Animals, Wish You Were Here, and the iconic The Dark Side of the Moon complete with saxophone and female backing vocals for The Great Gig in the Sky.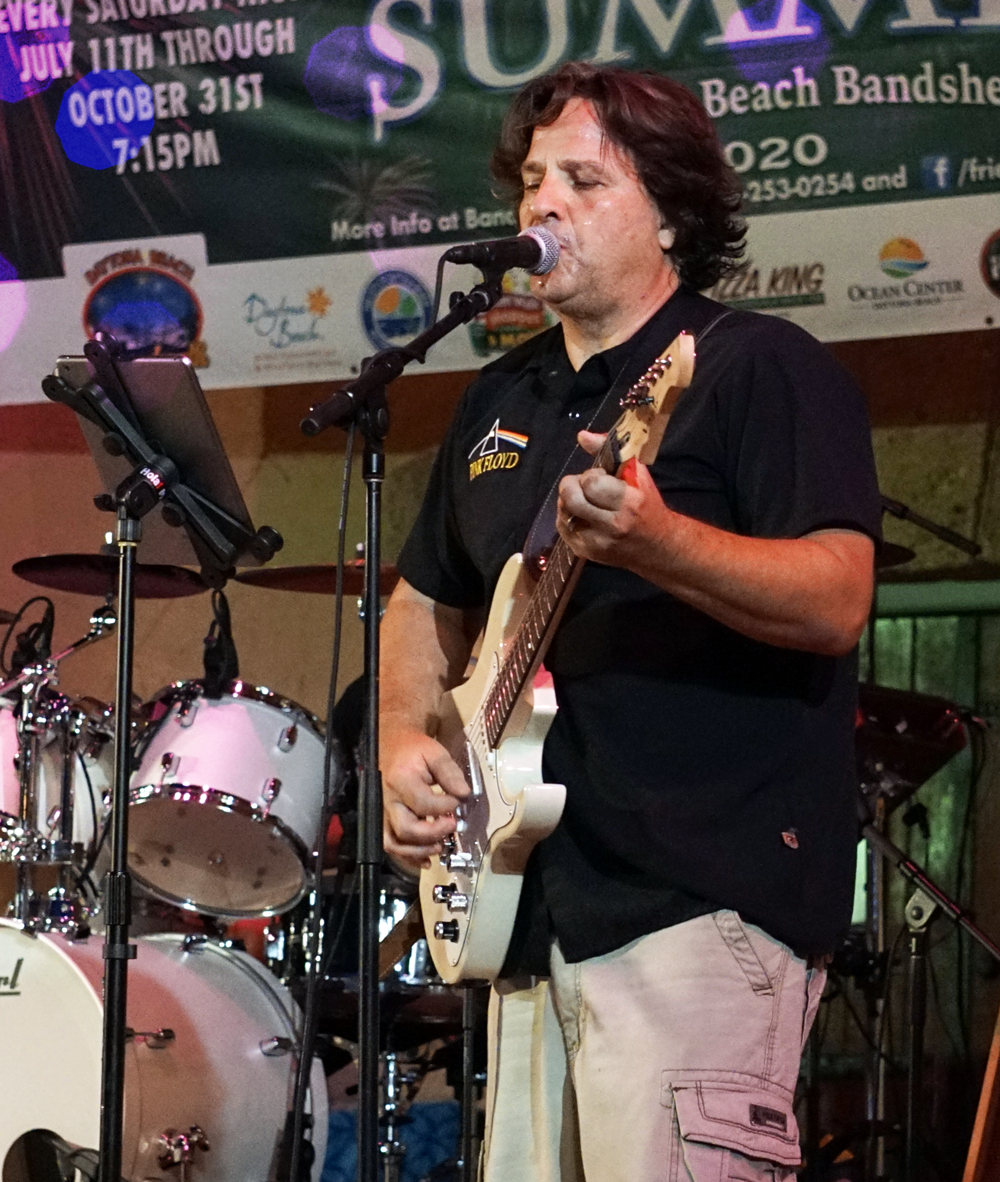 Eric Sandalic, born and raised in Queens NY, is a fan of many different genres of music. He first gained an interest in music after being blown away at his first concert: RUSH at Madison Square Garden. He immediately began taking guitar lessons at the age of 12 and by the age of 16 his original heavy metal band won 2nd place in the Long Island Drum Center's battle of the bands held at Queens College. Several months later, the band took first prize in a similar battle of the bands held at the famed Calderone Concert Hall in Hempstead, NY. The band won 50 hours of recording time in a 24 track recording studio. This is where he met, befriended and learned how to record with future Grammy winner Ric Wake (Taylor Dayne, Twisted Sister, Mariah Carey, Whitney Houston, Lou Reed) In 1988, he and legendary NYC bassist Danny Lilker (Anthrax, SOD, Nuclear Assault) formed a crossover side project called Extra Hot Sauce. That same year they signed with Peaceville Records in the UK that produced their debut 12" vinyl record, "Taco Of Death". The record went on to sell over 30,000 copies worldwide and still fetches a premium today on ebay. Sandalic got involved in the high speed audio tape duplication business for many years after and in 1995 began playing bass guitar with the Long Island death metal band Butchery. Butchery released a single full length CD before being forced to change their name due to lineup changes to Exuviate and eventually settling on Grotesqueuphoria where they signed with Destro Records and put out 2 full length CD's. During these years, Sandalic's death metal bands played events such as the Milwaukee Metalfest, the New Jersey Metalfest, Lamours, Sundance, Coney Island High, Castle Heights and many more. His bands had opened for some of the biggest death/thrash metal bands of all time including but not limited to Deicide, Cannibal Corpse, Overkill, Nuclear Assault, Suffocation, Obituary, Cryptopsy, Deeds of Flesh, Immolation, The Dillinger Escape Plan, Dying Fetus and Nile.
In 2004, shortly after he moved from NYC to Tampa, he answered an ad for a band that was looking for a guitarist for a Pink Floyd Tribute. He has been with Wall Of Echoes ever since. 
Today, Sandalic teacher Biology, enjoys going to music festivals and also plays guitar with a local funk fusion band, The Low Heavies.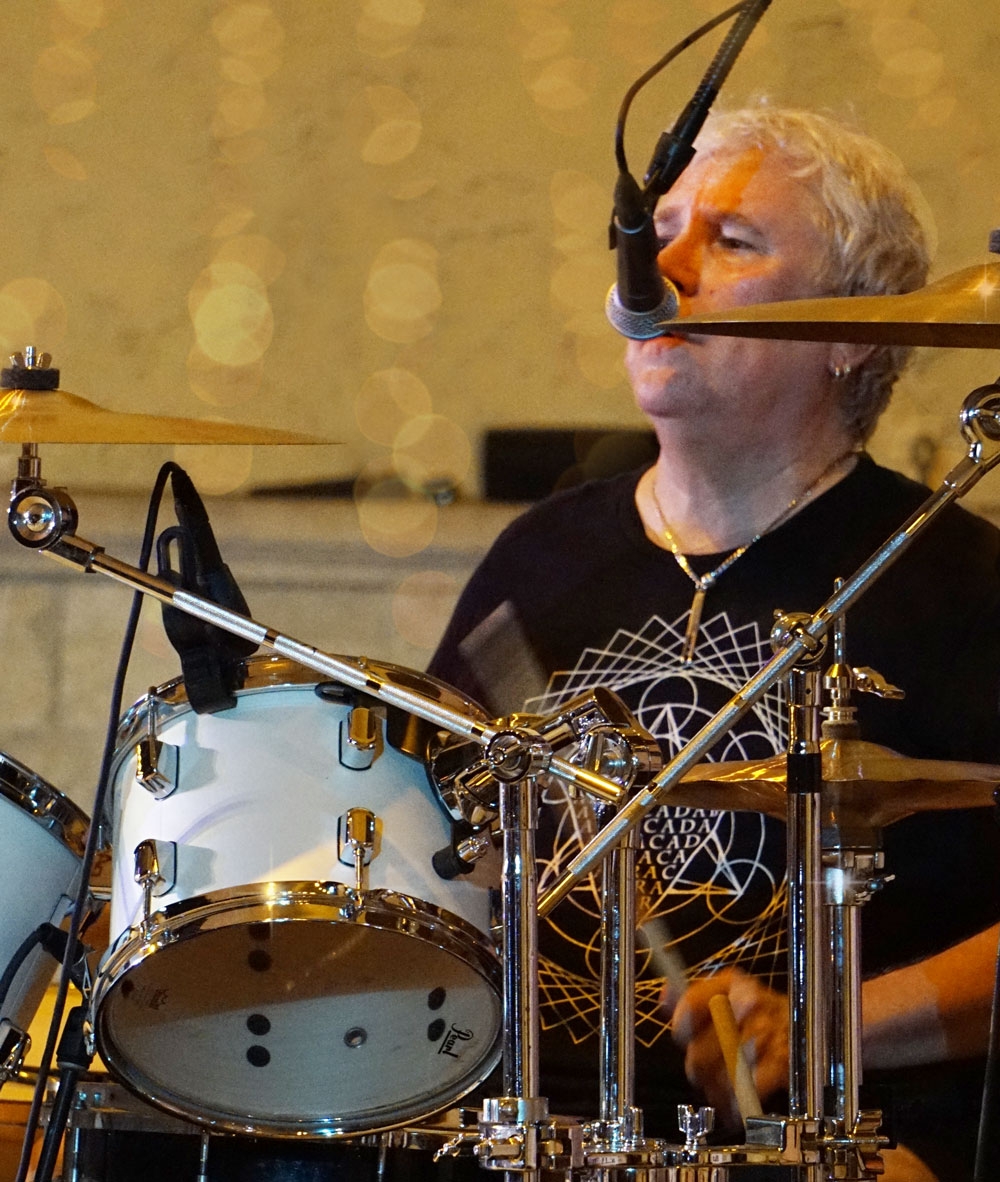 BILLY MAC
Billy Mac grew up in the suburbs of DC where he started showing musical interest at a young
age. His mother, a classically trained pianist, encouraged her progeny to follow her and play
keyboards. By the 5th grade he began clarinet and classical music studies and learned quickly,
and by 6th grade he played well enough to be offered private lessons with one of the solo
clarinetists for the US Marine Corps Band.
Billy completed his studies under Mr. Don Carodiskey while in high school, and finished his
grade school tour succeeding to 1st chair solo clarinet in 11th grade, holding the position until
graduation. High school also included marching band on the clarinet, and jazz band on
percussion. College included theory and harmony classes, and he studied voice through Berklee
College of Music with Karen DiBiasse.
Billy's love for the drums started early and loomed large. As the drummer in him was taking
root, he purchased his first drum kit and started his first rock band. He rarely practiced his
clarinet but retained his love of classical music and theory. He did woodwind and brass jams
with his jazz friends to keep his clarinet improvisation skills fresh.
Fluent chart and sightreading taught Billy how to count in odd time signatures and helped
strengthen his meter, and his predilection for classical, soundtrack and progressive rock music
continues to challenge his abilities and keeps it exciting.
Billy was a founding member of Washington MIDI Users Group which shortly thereafter led to
the formation of 11:11 Productions/Pro Media with his sound engineer partner Dave Fletcher as a
song writing, recording and media entity, producing soundtracks and special effects, and
cementing their involvement with Interworld Productions and Mythic Entertainment. This led to
the development and successful release of 7 internationally distributed online multiplayer video
games.
As a founding member of Wall of Echoes, Billy Mac performs with passion, striving to give the
audience an unforgettable experience.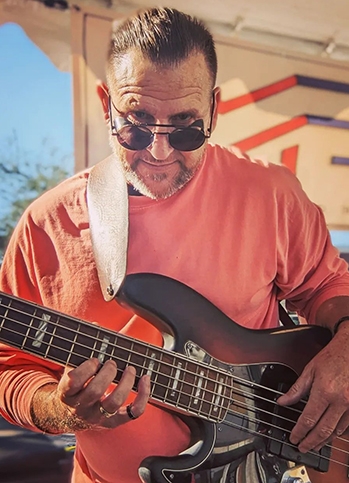 MARK CORRADETTI

Mark was raised in Summit NJ and attended Summit public schools and got his start in their music program as an 8 year old. At that time, music was a requirement in public schools and there was a myriad of things to do. Mark picked up on the electric bass at 14, and has been on it ever since. After high school , Mark attended Berklee College of music where he studied privately with Whit Browne and also Bruce Gertz, both highly esteemed private instructors. At Berklee, Mark was able to play in many different situations, and expanded his knowledge. "I was able to gig, practice and jam with many people all the time. my time there was fantastic!"

Upon leaving Berklee, Mark lived in New Jersey, playing and became immersed in the metro New York scene and played with many different groups and situations. In 1994, Mark moved to Nashville TN and lived and worked there for 22 years playing in a variety of settings, including studio, live and touring dates with a variety of artists. in 2015, Mark moved to the Los Angeles area where he played in the studio and many live gigs, theater dates and also a grammy nominated track by Roberto Tola. In 2020, 
Mark relocated once again to Sarasota Florida, where he now lives. He is involved with the local music scene, acting as musical director and bassist for Support the Song L.L.C. , where he co-writes, co-produces tracks for NFT and sync licensing tracks.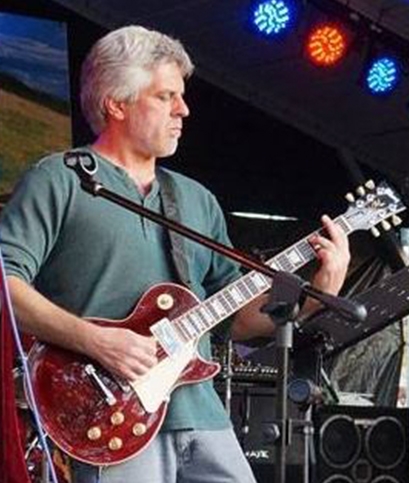 Chris was born in Lynn Massachusetts on March 23, 1965. He picked up his first guitar at
age 15 and never put it down. At age 19 he joined the Navy and served for the next 27 years. 
During that time he added keyboards to his resume. An electronics technician by trade, he still kept his music close. Forming several ships bands and performing for the crew underway and VIP shows in Norway, Greece, all over the Arabian Gulf states and many other places around the world.
In 2011 he retired from the Navy and continued to pursue music. Spending the next few years studying music theory, piano, percussion and music production, at the University of Mary Washington, Virginia. 
In 2013 he made his way to Weeki Wachee Fl. Since then he has been very active in the Tampa music scene. Performing with cover bands, tributes and local music festivals around the bay area.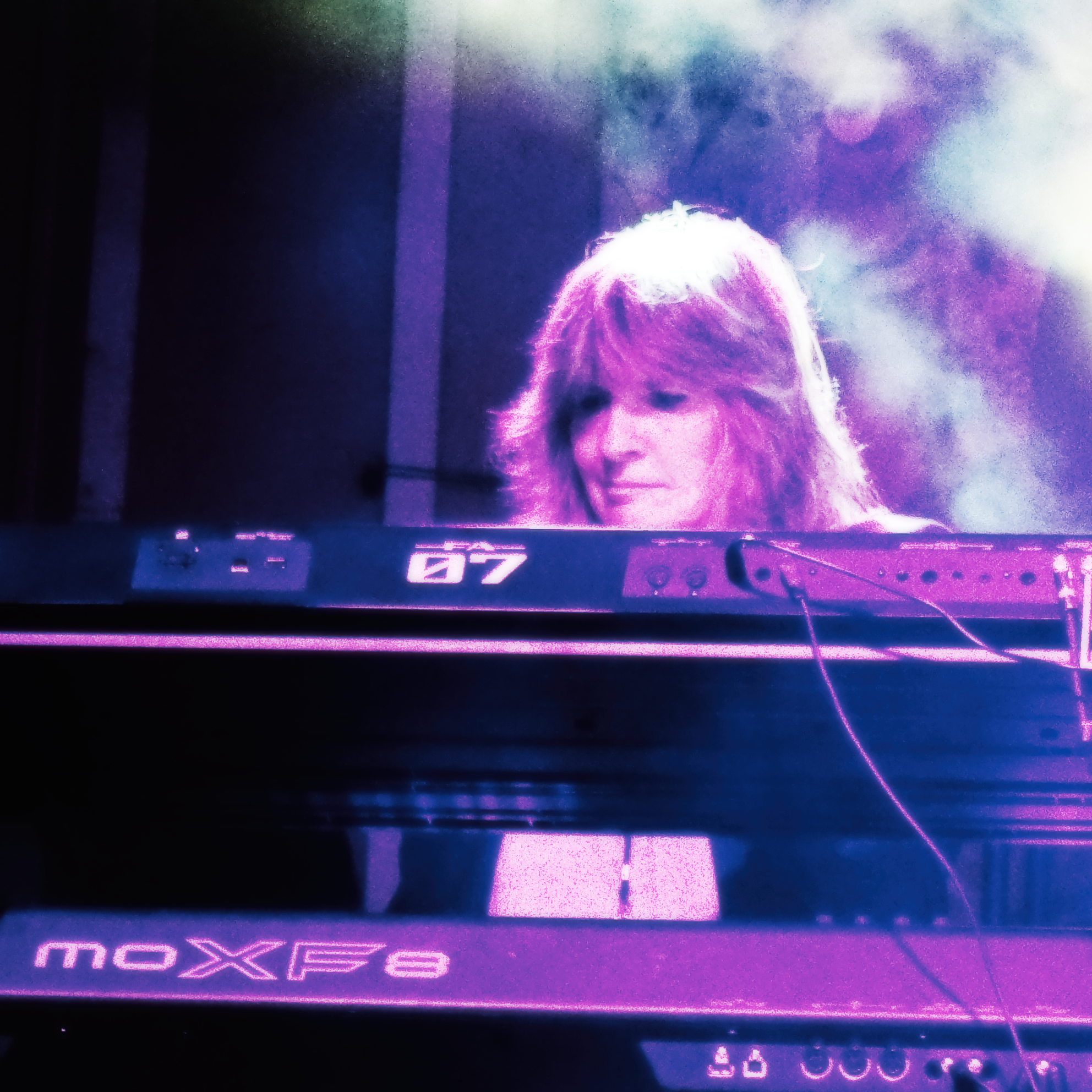 Daisy Ash is a musician (by avocation) and a radio traffic reporter (by vocation).  
Born and raised in the suburbs just north of New York City, Daisy went to Rye High School (Rye, NY) and then Cornell University (Ithaca, NY).  
She has worked for Club Med in the Caribbean and New York City, and in radio in New York.  
She currently works for Total Traffic Network in the Tampa Bay area of Florida.  
Daisy Ash sings and plays drums in the Praise Band at St. Raphael's Church in St. Petersburg, and plays keyboards with Fleetwood Max and Diamond Daze.  She is married, and has two wonderful cats.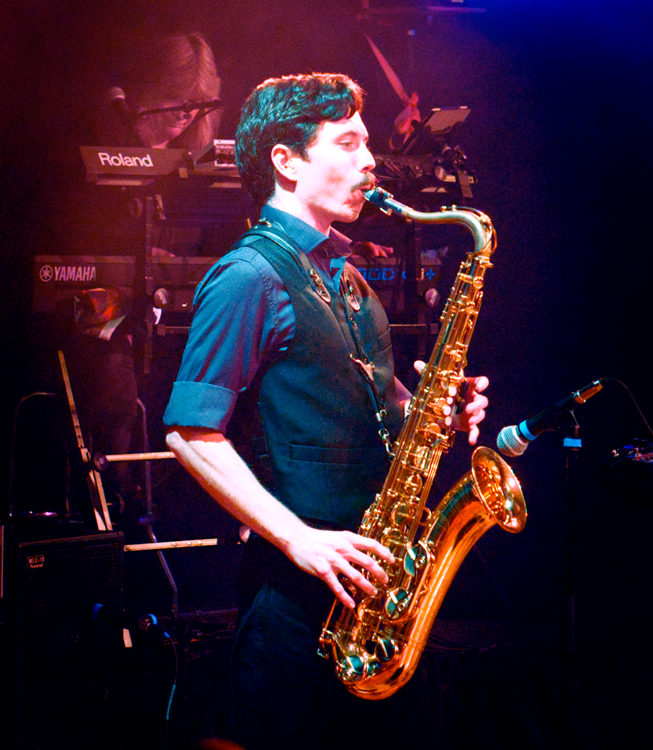 CHRISTIAN RYAN

Christian Ryan is an established figure in the Florida music community.  With thousands of performances under his belt, he brings a wealth of experience and knowledge to every gig.  Through his enthusiasm for the stage, he has been able to become one of the most in-demand and versatile musicians in the state of Florida.  
Forging a unconventional path attempting to bring his arsenal of woodwinds into situations one may not expect to hear them, he has consistently helped bands reach new heights.  Possessing equal appreciation for complex harmonies to simple grooves, instrumentals to clever lyrics, new school to vintage, commonplace to the weird; he is constantly testing his musical palette.  He takes pride in playing exactly what any situation calls for.
With what began as "something that seemed cool" in picking up the alto saxophone at 11 years old for school band, has blossomed into an exciting journey.  As primarily a performer, he has taken his talents throughout Florida, across the United States, parts of the Caribbean, and as far as China.  He has had the opportunity to learn from an array of devoted musicians across genres. From major festivals and sold out venues, to neighborhood bars & restaurants, with full orchestras/choirs to solo, he has played it all.